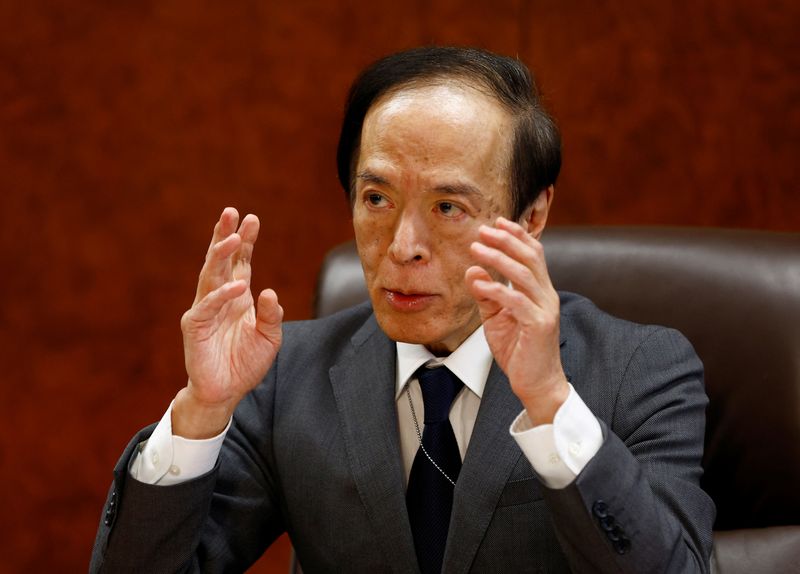 (c) Reuters. Bank of Japan Governor Kazuo Ueda speaking at a media group interview in Tokyo, Japan on May 25, 2023. REUTERS/Kim Kyung-Hoon/File Photo
By Leika Kihara
TOKYO (Reuters) – Bank of Japan Governor Kazuo Ueda said considerations over the central bank's finances would not prevent it from phasing out its massive monetary stimulus when the appropriate time comes.
While Ueda said there was "still a distance to go" before the BOJ exits ultra-loose monetary policy, his remarks come at a time when markets are rife with speculation he will dismantle his predecessor Haruhiko Kuroda's radical stimulus programme.
Speaking at an academic seminar on Saturday, Ueda said the BOJ's profits will be squeezed when it raises interest rates because doing so would increase interest rate payments it makes to financial institutions' reserves parked at the central bank.
But it is also likely to earn higher interest income as its current government bond holdings are replaced by higher-yielding bonds, he said, adding it was hard to accurately predict to what extent a future exit could affect the BOJ's finances.
"The objective of the Bank's monetary policy is achieving price stability, which is its mission as stipulated by law. The Bank's finances and other factors do not prevent it from implementing necessary policies, Ueda said in a speech at the annual meeting of the Japan Society of Monetary Economics. It also maintains a massive asset-buying programme deployed in 2013. The BOJ also continues to maintain a massive asset buying programme that was implemented in 2013.