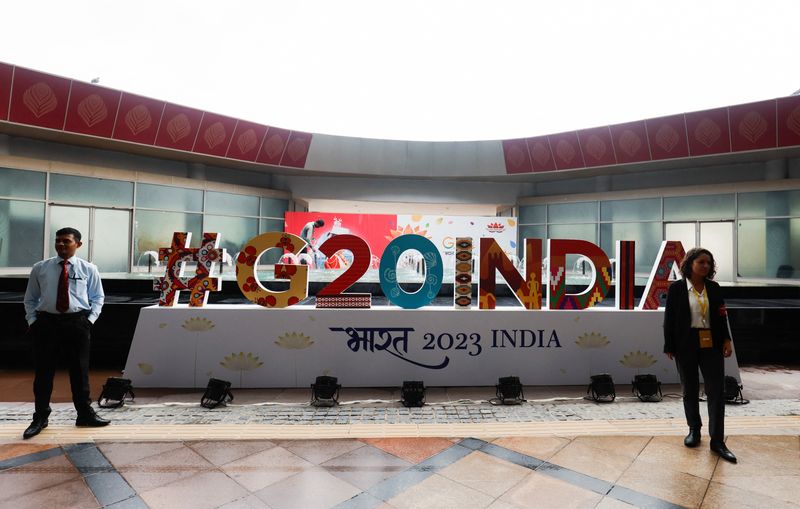 3/3
(c) Reuters. REUTERS/Amit Dave
2/3
By Nandita Bose, Sarita Chaganti Singh and Shivangi Acharya
NEW DELHI (Reuters) – The G20 has adopted a consensus declaration on issues facing the bloc, Indian Prime Minister Narendra Modi announced during. REUTERS/Amit Dave
2/3
By Nandita Bose, Sarita Chaganti Singh and Shivangi Acharya
NEW DELHI (Reuters) -The G20 has adopted a consensus declaration on issues facing the bloc, Indian Prime Minister Narendra Modi announced on Saturday during a summit, signalling that negotiators had resolved deep differences over the wording on the war in Ukraine.
He gave no details on the compromise wording.
"On the back of the hard work of all the teams, we have received consensus on the G20 Leaders Summit Declaration. I announce the adoption of this declaration," Modi told the G20 leaders in New Delhi.
Earlier Modi inaugurated the two-day meeting by calling on members to end a "global trust deficit" and announced that the bloc was granting permanent membership to the African Union in an effort to make it more representative.
"Today, as the president of G20, India calls upon the entire world to first convert this global trust deficit into one trust and one confidence," he said. It is time to work together. The group is divided on the war in Ukraine. While Western nations want to condemn Russia, others demand a focus on broader issues.