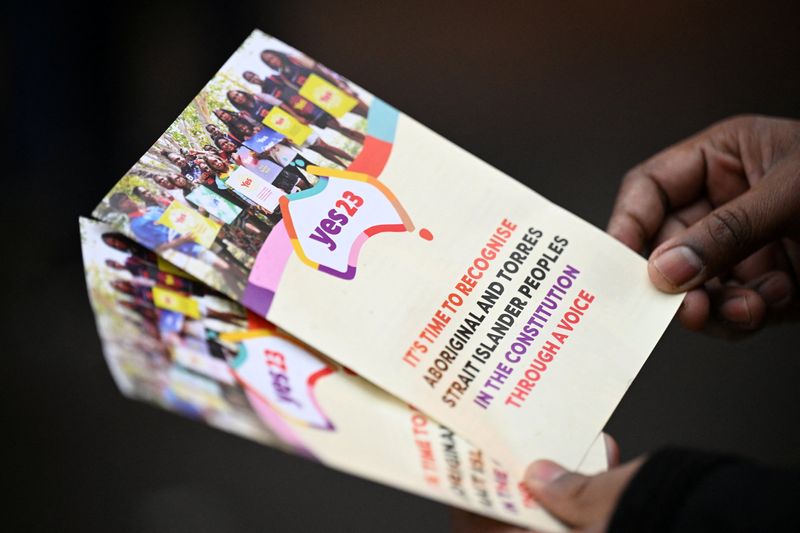 5/5
(c) Reuters. A Yes23 Volunteer holds pamphlets as she speaks with commuters in Melbourne about AAP Image/James Ross via REUTERS
2/5
By Renju Jose
SYDNEY (Reuters) – More than half of Australians would reject the inclusion of an Indigenous advisory panel in the constitution, a newspaper poll showed on Monday, as the government struggles to lift support for the landmark proposal ahead of a vote in about six weeks.
The latest newspoll conducted for The Australian newspaper showed support for a "Voice to Parliament", an Indigenous committee to advise Parliament on matters affecting them, continued to slide with only 38% of voters intending to support it, while around 53% will be opposing the proposal.
Australia is facing a six-week campaign before voting in the referendum on Oct. 14, when they would be asked whether they support altering the constitution to set up an Indigenous committee to advise the federal parliament.
The referendum requires a national majority of votes as well as a majority of votes in at least four of the six states in order to change the constitution. AAP Image/James Ross via REUTERS
2/50 The support for the conservative coalition opposition rose to its highest level since the May 2022 election, leading Labor 37% to 35% on primary votes.
Over the weekend, opposition leader Peter Dutton said he would hold a second referendum on Indigenous recognition if the Voice referendum fails but would not support a constitutionally-enshrined body, drawing criticism from the Voice support group.
"He's already planning the sequel while doing everything he can to sabotage the original," Albanese told local media.