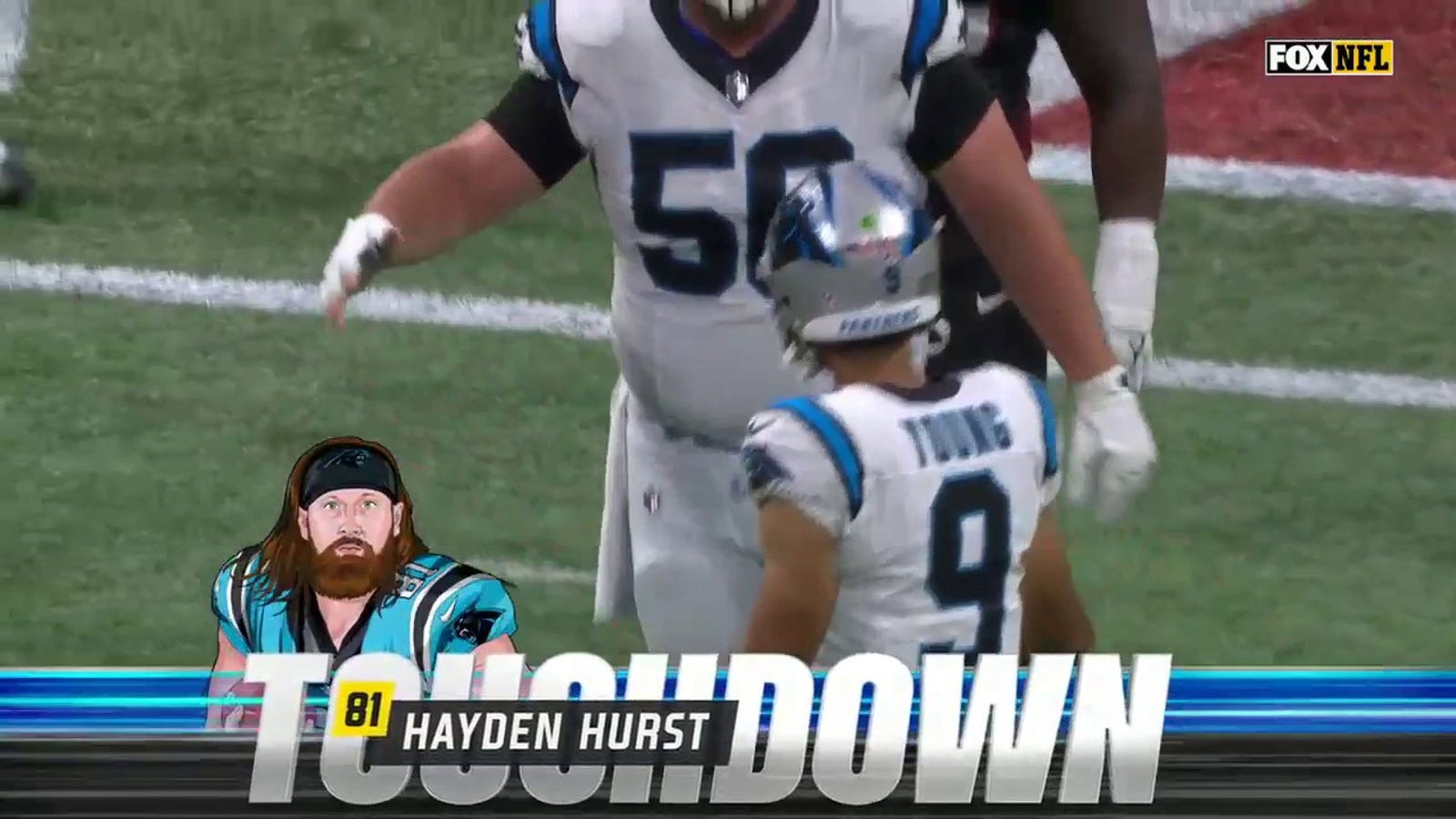 Week 1 of the 2023 NFL season is in full swing, and we've got you covered with all the action from around the league!
Kicking things off, Jared Goff and the Detroit Lions took down reigning Super Bowl champions Patrick Mahomes and the Kansas City Chiefs in a stunner on Thursday.
The action continues Sunday with a slew of top-tier games. In a NFC South Division matchup, Bryce young0100 The afternoon card features a rivalry as old Stroud, to name a few.The afternoon card features a rivalry as old as time, with Justin Fields and the
Chicago Bears taking on Jordan Love and the Green Bay Packers, followed by the Dallas Cowboys at New York Giants to close out the day.Here are Sunday's top plays!FINAL: Atlanta Falcons 24, Carolina Panthers 10Falcons capitalizeThree plays after Jessie Bates picked off Young, rookie running back Bijan Robinson shed a tackle in the red zone and ran in the completion for an 11-yard Falcons score.Bryce gets TD No. 1
Young hit tight end Hayden Hurst for his first NFL touchdown, getting the Panthers even with the Falcons at seven apiece.
Panthers' Bryce Young finds Hayden Hurst against the Falcons to record his first NFL TD pass
I'm still here!
Tyler Allgeier gave the Falcons the lead on a 3-yard rushing touchdown in the opening moments of the fourth quarter. Later in the quarter, he gave the Falcons a two-score lead with another goal-line score.
FINAL: Jacksonville Jaguars 31, Indianapolis Colts 21
Remember
?
Trevor Lawrence hit Ridley in the back of the end zone for the new duo's first scoring hookup.
I got this
Rookie quarterback Anthony Richardson ran in a goal-line score for the Colts, the first of his NFL career.Colts' Anthony Richardson punches in his first career touchdown to tie the game against the JaguarsJags got some receivers …
Ridley is back, but don't forget about Zay Jones. The latter reeled in a remarkable catch in the back-corner of the end zone for Jacksonville's second touchdown.
Second-and-whatever
Faced with a second-and-28, Richardson got the ball out to Michael Pittman Jr., and the wide receiver got some blocks and ran through Jacksonville's defense for a touchdown.
'Tis confusion
Lawrence got hit and running back Tank Bigsby picked up the loose ball — which he appeared to think was an incomplete pass. Then Bigsby had the ball knocked out of his hands, and DeForest Buckner ran it back for a Colts touchdown.
Back in front
Bigsby ran in a goal-line score, giving the Jaguars the lead. After Richardson was intercepted by Jaguars Three plays later, Travis Etienne ran his way out of a series of tackles and ran in a 26-yard touchdown, giving the Jaguars a 10-point lead.
FINAL: San Francisco 49ers 30, Pittsburgh Steelers 7
Welcome back,
Brock Purdy
The 49ers second-year quarterback hit wide receiver Brandon Aiyuk for the first touchdown of the Sunday slate.
That ball is mine
Purdy threw it up for Aiyuk, and the San Francisco wide receiver came down with the contested touchdown reception, his second of the game.
49ers' Brock Purdy, Brandon Aiyuk connect on an UNREAL reception to grab a 17-0 lead over the SteelersPittsburgh shows life
After going down 20-0, the Steelers found the end zone right before halftime, as Kenny Pickett connected with tight end Pat Freiermuth for a 3-yard score.
See ya!
Christian McCaffrey got the call on the run, shed some tackles, got a downfield block and went 65 yards for the San Francisco touchdown.
49ers' Christian McCaffrey SPINS his way into an AMAZING 65-yard rushing TD against Steelers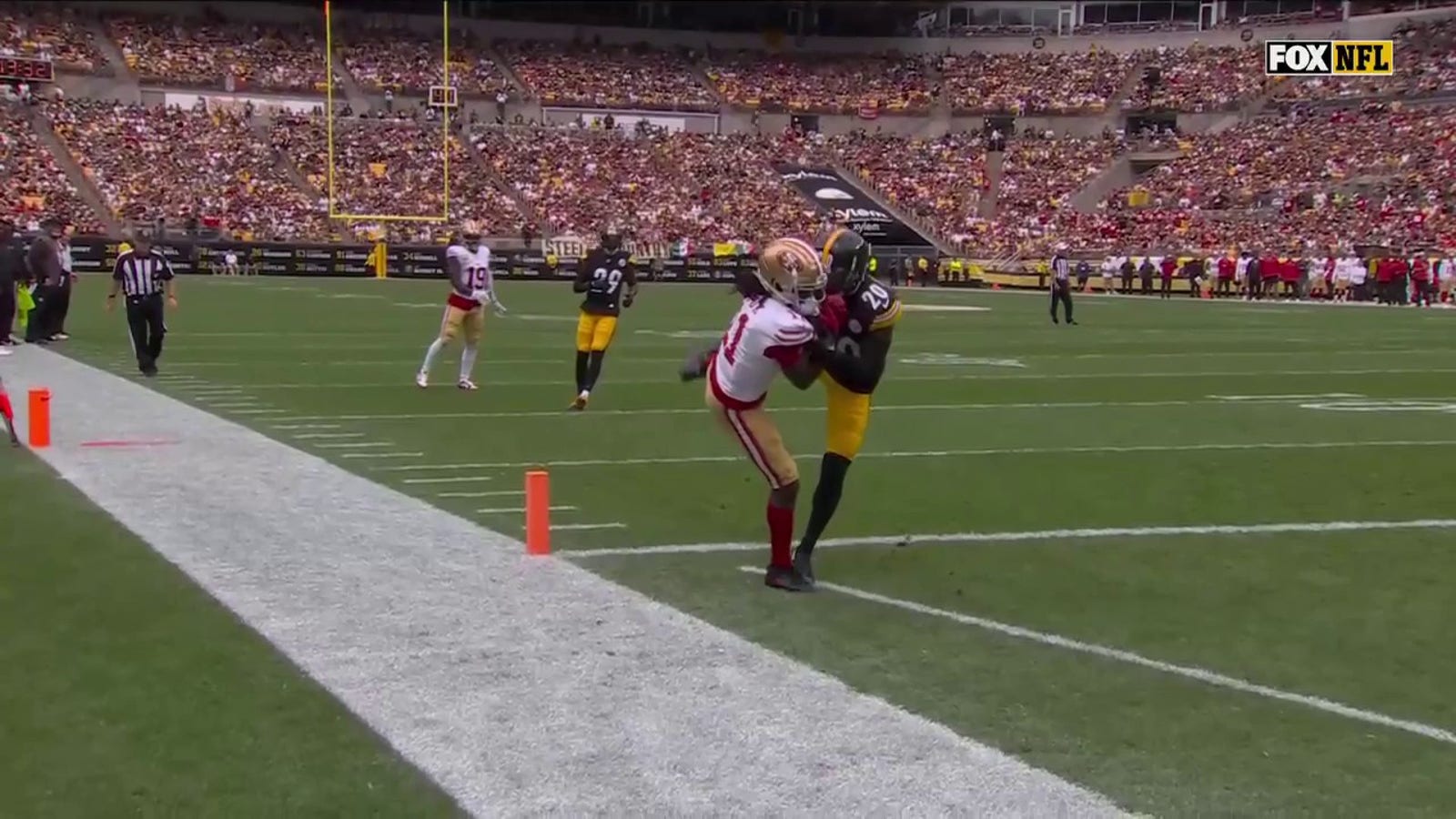 FINAL: Washington Commanders 20, Arizona Cardinals 16
2022 draft picks connect
Scrambling to his left, Commanders quarterback Sam Howell found running back Brian Robinson near the pylon for the score.
OOPS!
With just 1:02 remaining in the first half, Howell was strip-sacked by Cardinals linebacker Dennis Gardeck, and Cameron Thomas recovered the loose ball for a touchdown. Washington then squeezed out a field goal before halftime, trailing 13-10.
Howell does it himself
Faced with a third-and-goal at the 6-yard line, Washington's quarterback ran in a touchdown.
FINAL: Cincinnati Bengals 24, Cleveland Browns 3
Deshaun Watson
takes it himself
Cleveland connected on a field goal early in the first half, and Watson ran in a 13-yard touchdown just before halftime. The Browns led 10-0.
Browns in control
Shortly after Myles Garrett came up with a fourth-down sack of Joe Burrow, Cleveland stretched its lead to three scores when Watson hit tight end Harrison Bryant for a 3-yard touchdown. The Browns then converted a two-point attempt, taking a 24-3 lead.
Tennessee Titans at New Orleans SaintsDerrick Henry
is still strong
Tennessee's star running back is back stiff-arming defenders into next Tuesday. The two teams combined for five field goals in the first half, as the Titans led 9-6 at the halftime break.
Saints pull ahead
Derek Carr threw his first touchdown pass as a Saint when he hit Rashid Shaheed for the 19-yard score.
FINAL: Tampa Bay Buccaneers 20, Minnesota Vikings 17Go deep!
Kirk Cousins had time to throw, and he found rookie wide receiver Jordan Addison open downfield for the 39-yard Vikings touchdown.
Bucs answer
Mike Evans may not have a new contract, but he caught the Buccaneers' first touchdown of the season, hauling in a 28-yard scoring pass from Baker Mayfield.
Lead change
Tampa Bay connected on a field goal but was gifted a first down thanks to an offside penalty on Jay Ward. Three plays later, Mayfield hit wide receiver Trey Palmer for the go-ahead touchdown.
Vikings strike back
Alexander Mattison refused to go down and ran into the end zone for the Minnesota touchdown.
Buccaneers put it away
Chase McLaughlin connected on a 57-yard field goal for the Buccaneers. Then after forcing the Vikings to go three-and-out, the Buccaneers ran out the clock to win the game.
Houston Texans at Baltimore Ravens
Airborne!
Running back J.K. Dobbins went flying for Baltimore's first touchdown.
Powering it in
Justice Hill thundered into the end zone for Baltimore's second score early in the second half. The Ravens converted a two-point play Houston then turned the ball over on downs at The Ravens led 22-6.
8 The Ravens led 22-6.
8-3
Ravens star Lamar Jackson hit one of his new outside targets, Odell Beckham Jr., for a sizzling grab in the fourth quarter.
Los Angeles Rams at Seattle Seahawks
(4:25 p.m. ET, FOX)

Los Angeles Rams

LAR

+4.5

+180


o45
Seattle Seahawks

u45
Green bay Packers at Chicago Bear ET, FOX)

+102

o41


Chicago Bears
CHI

Las Vegas Raiders at Denver Broncos
(4:25 p.m. ET)

+139

o43


Denver Broncos
DEN

Miami Dolphins at Los Angeles Chargers
(4:25 p.m. ET)

+139

o50.5


Los Angeles Chargers
LAC

Philadelphia at New ET)
Philadelphia Eagles

o44

New England Patriots


NE
+3.5

DAL
-3.5

NYG

+3.5


+145
u44.5

National Football League
NFL trending

Rams place Cooper Kupp in injured reserve; WR will miss at least four games


Could Deion Sand be the next Dallas Cowboys head coach?


Atlanta Falcons vs. Carolina Panthers: Predictions, Odds and Picks

[Do you want more great stories delivered right to you? Here's how you can create or log in to your FOX Sports account, follow your favorite leagues, teams and players and receive a personalized newsletter in your inbox daily.]
---
Deion Sands shouts out Michael Irvin and clarifies the'receipts comment' after Colorado beat TCU



Bengals vs. Browns Prediction, Odds, Picks – Sep 10
Follow your favorite players to receive information on games, news, and more.