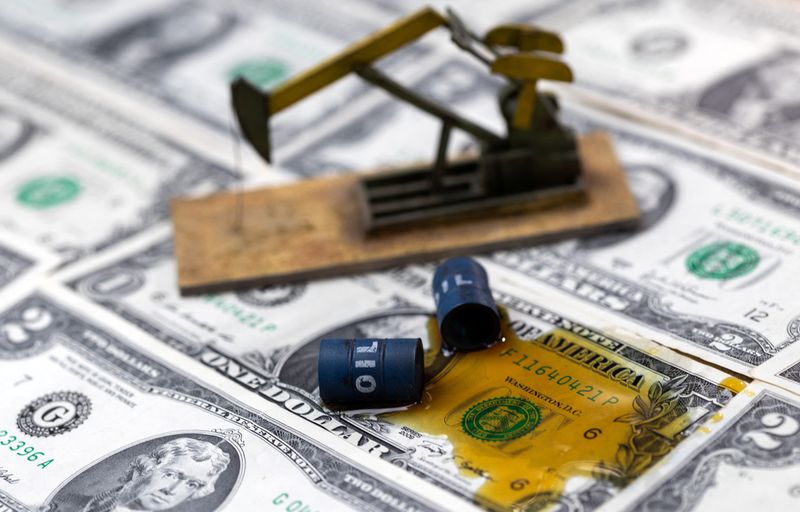 (c) Reuters. REUTERS/Dado Ruvic/Illustration/File Photo
By Sudarshan Varadhan
SINGAPORE (Reuters) -Oil prices were set to snap a two-week losing streak as they rose for a fourth consecutive session on Friday due to tightening supplies and expectations that the OPEC+ group of oil producers would extend output cuts until the end of the year. REUTERS/Dado Ruvic/Illustration/File Photo
By Sudarshan Varadhan
SINGAPORE (Reuters) -Oil prices were set to snap a two-week losing streak as they rose for a fourth consecutive session on Friday due to tightening supplies and expectations that the OPEC+ group of oil producers would extend output cuts to the end of the year.
The U.S. West Texas Intermediate crude (WTI) was up 21 cents, or 0.3%, at $83.84 a barrel, while was up 26 cents, also 0.3%, at $87.09 a barrel as of 0605 GMT. WTI has risen over 5% during the week, while Brent was up about 3%.
Analysts expect Saudi Arabia to extend a voluntary oil production cut of 1 million barrels a day into October, adding to cuts by the Organization Petroleum Exporting Countries and allies, known as OPEC+.
"We continue to expect cuts to be extended, with prices above US$90/bbl (on a sustained basis) required to draw OPEC supply back to market, as well as incentivize U.S. shale producers to increase drilling activity," the National Australia Bank (OTC:) said in a client note on Friday.[USOILC=ECI]Russia, the world's second largest oil exporter, has also agreed with OPEC+ partners to cut oil exports, Deputy Prime Minister Alexander Novak said on Thursday.
inventories
fell by a more-than-expected 10.6 million barrels last week, government data on Wednesday showed. Commercial crude oil inventories have plunged by 34 million barrels since the middle of July.
Traders and investors often treat changes in U.S. inventories as a proxy for changes in the global production-consumption balance, and spot prices and spreacs can rise if there is persistent depletion of stocks.
"Signs of stronger demand were also evident in the product market, with implied gasoline demand pushing higher for the first time in three weeks," ANZ said in a research note on Friday.
A weaker U.S. dollar, which looks set to end a six week winning streak, also helped prices. The weaker dollar, which is expected to end a six-week winning streak, also helped prices.