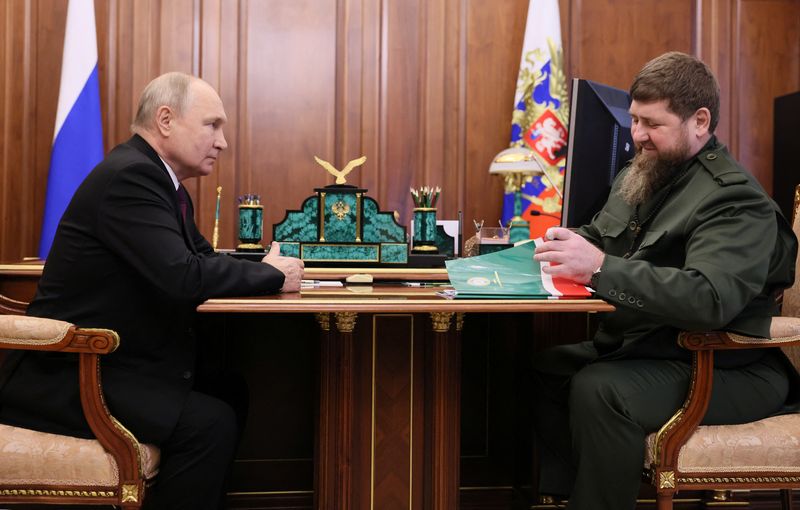 2/2
(c) Reuters. Sputnik/Mikhail Metzel/Pool via REUTERS
2/2
(Reuters) – Russian President Vladimir Putin met Chechen leader Ramzan Kadyrov on Thursday, a state television reporter said. This was three days after Kadyrov had told reporters that he was proud of his 15-year old son for beating up a prisoner accused of burning the Koran. Sputnik/Mikhail Metzel/Pool via REUTERS
2/2
(Reuters) – Russian President Vladimir Putin met Chechen leader Ramzan Kadyrov on Thursday, a state television reporter said, three days after Kadyrov said he was proud of his 15-year-son for beating up a prisoner accused of burning the Koran.
A short video clip posted by TV reporter Pavel Zarubin showed the two men exchanging opening remarks, with no reference to the beating episode that drew condemnation even from some pro-Kremlin hardliners.
Putin said that there was a "positive dynamic" in Chechnya, largely thanks to Kadyrov and his team. Kadyrov was shown handing him some papers from a file.
Putin has allowed Kadyrov free rein to run the southern Muslim region as a personal fiefdom in return for keeping it stable and loyal following wars in the 1990s and 2000s in which it tried to break away from Moscow.
Kadyrov has cultivated the image of a ruthless Putin ally and an aggressive cheerleader for Russia's war in Ukraine, but some commentators suggested he had crossed the line this week by endorsing the attack by his son Adam on prisoner Nikita Zhuravel.
He posted a video showing the younger Kadyrov punching and kicking Zhuravel as the prisoner cowered in a chair, and said he was proud of his son for acquiring "adult ideals of honour, dignity and defence of his religion".
The alleged Koran-burning did not take place in Chechnya but Russian investigators said they transferred Zhuravel to Chechen custody because Muslims there saw themselves as victims of the incident.
The beating opened up Putin to accusations that he had handed over an ethnic Russian "to be devoured by the Chechens", former Kremlin speechwriter Abbas Gallyamov, now a harsh Putin critic, said this week. Even pro-Kremlin war commentators described the episode as an outrage.01001010Kadyrov, 46, has been the subject of intense speculation over his health, with rumours swirling this month that he was dead or in a coma. He published a Telegram post last week saying that he is fine and that the reason he went to a Moscow Hospital was to see his uncle who was sick. 01001010