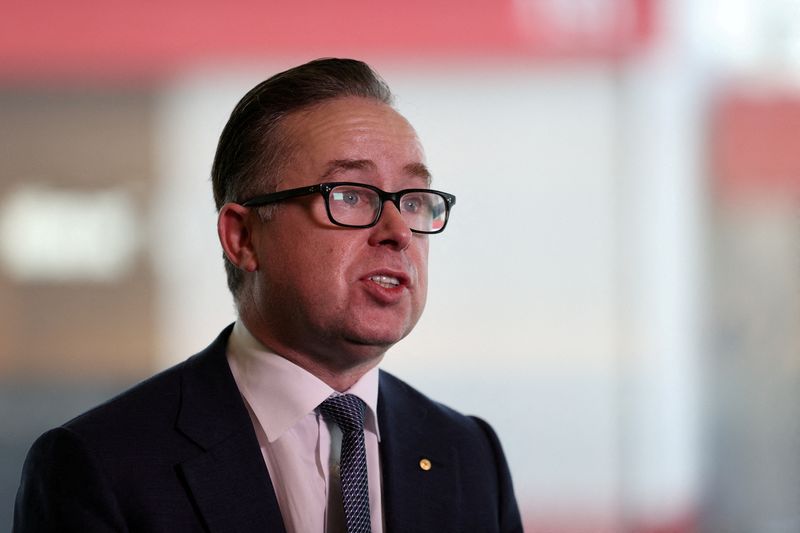 (c) Reuters. REUTERS/Loren Elliott/File Photo
By Byron Kaye
SYDNEY (Reuters) – Australia's Qantas Airways said its former CEO took a pay increase of 872% as he collected years' worth of long-term incentives on the way out, but added that it was cutting and withholding hefty bonuses amid damaging lawsuits. REUTERS/Loren Elliott/File Photo
By Byron Kaye
SYDNEY (Reuters) – Australia's Qantas Airways said its former CEO took a pay increase of 872% as he collected years' worth of long-term incentives on the way out, but added it was cutting and withholding hefty bonuses amid damaging lawsuits.
Alan Joyce, who retired early this month after a regulator lawsuit accused Qantas of selling tickets on thousands of already-cancelled flights, took home A$21.4 million in the 2023 financial year, according to the company's annual report, published on Wednesday.
Most of the amount was share-based incentives that Joyce was allowed to cash in after they vested, according to the report. Joyce's total pay for the previous year was A$2.3 million.
Qantas cut an additional short-term bonus for Joyce by one-fifth of the A$2.7 million available and withheld it pending the outcome of two lawsuits that may result in hefty fines and further reputational turbulence for the company, the report added.
"In recognition of the customer and brand impact of cumulative events, the Board has applied its discretion to reduce short-term incentives" for Joyce and other executives, Chairman Richard Goyder said in the report.
The company was able to recall A$8.4 million of share-based bonuses Joyce collected in the year but is not yet allowed to sell, the report added. The company could "claw-back" Joyce's unvested share bonuses, currently valued at A$6m, the report said. Qantas is facing a lawsuit from the Australian Competition and Consumer Commission, which claims that it violated consumer law when it sold fares for 8,000 cancelled flights in mid-2022. This was shortly after the border reopened. Qantas said that it was considering the lawsuit.
The High Court ruled the 2020 sackings as illegal in this month. Qantas must return to the Federal Court to determine what it must pay in penalties and compensation to affected workers.
"Alan … openly recognised that there were elements of the COVID restart that could have been managed better and took action to start turning that around," Goyder wrote in the report.
(This story has been refiled to remove an extraneous letter in paragraph 7)
($1 = 1.5504 Australian dollars)