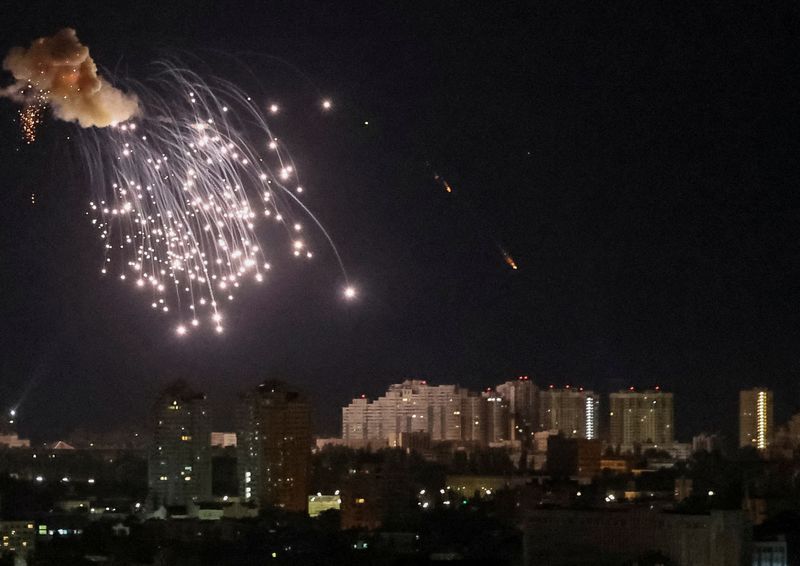 2/2
(c) Reuters. In Kyiv in Ukraine on September 10, 2023, a drone explodes in the sky during a Russian strike. REUTERS/Gleb Garanich
2/2
By Tom Balmforth and Gleb Garanich
KYIV (Reuters) -Russia fired nearly three dozen drones at Kyiv early on Sunday, with blasts ringing out across the Ukrainian capital and the surrounding region for around two hours and debris falling across several city districts, Ukrainian officials said. Ukraine's air force reported that the military had destroyed 26 of the 33 drones fired by Russia. All of them were aimed at Kyiv and its surrounding area. Reuters witnesses reported hearing at least five blasts in Kyiv. The night sky was lit up by the air defences destroying the targets. A plume of smoke roese from in between buildings.
Kyiv resident Liudmyla said she heard the buzzing of the Iranian-made drones before a blast wave shattered windows in her building and the jars on her windowsill. It was an incredibly frightening experience that I cannot even describe. Klitschko said that one person was injured. Klitschko said one person had been injured.
The state emergency service later reported that debris had fallen in three districts but that there was no serious damage.
Kyiv region Governor Ruslan Kravchenko wrote on Facebook (NASDAQ:) that an unspecified infrastructure facility and eight houses had been damaged as a result of the overnight strikes.
There was no immediate comment from Russia about the attacks. Moscow has been conducting regular airstrikes on Ukrainian population centers far from the frontlines of the 18-month-old war in the east and south.